---
Therapeutic Massage
Jeanne Riley, L.M.T. is a Licensed Massage Therapist in the State of Texas for over 18 years and is an expert in a wide range of massage disciplines, including Therapeutic, Swedish, Deep Tissue, Reflexology, Sports, Acupressure, Trigger Point, Hot Rock and Rain Drop Therapy. Jeanne recently joined Heavenly Faces Facial and Body Treatment Spa from the Coldwater Creek Spa.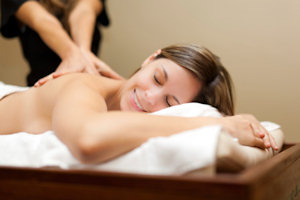 Whether you just need an hour of pampering relaxation to alleviate every day stress or need to address chronic pain we can offer you the perfect remedy.
Swedish Massage for pampering and relaxation, is a slow and gentle massage to relax the entire body by using hot oil and long, gliding strokes on the muscles in the same direction as the blood returning to the heart. 
Deep Tissue Massage is a more strenuous massage to relieve more chronic muscle pain, stress and tension .Choosing a Deep Tissue Massage will help more in alleviating deeper pain by working the deeper tissue structures of the muscle and fascia (connective tissue) to help relieve chronic muscle tension and knots.
Sports Massage is great if you need to keep your body in tip top condition to compete in your sport of choice or to recover after a day of strenuous activity or injury as it focuses on prevention and healing of muscles and tendons.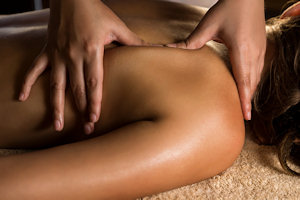 Trigger Point Therapy will be used to locate and then manipulate and deactivate specific muscles, knots and tension that cause overall referral pain to the body…for example neck pain or shoulder pain caused by bad posture or repetitive mechanical movements.
Acupressureis the ancient healing art where the massage therapist using the fingers and kneading to gradually press key healing points to stimulate the body's natural self-healing ability.
Reflexology (also known as Zone Therapy)is the application of appropriate pressure to specific points and areas on the hands, or feet.  It is believed that these areas and reflex points correspond to different body organs and systems and that applying pressure to them benefits a person's general health.
A skilled massage therapist will use many of the above techniques together or individually to best provide the client with the healing relaxation and pain relief that they need to improve their daily life.

1 hour of Massage will be $65.00.
Also available is Raindrop Massage and Hot Rock Massage.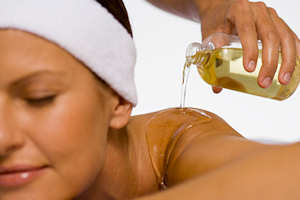 Raindrop Massage was developed from Young Living's proprietary Raindrop Technique®, a targeted massage and energy approach with pure, authentic essential oils for a deeply harmonizing, rejuvenating and relaxing experience to bring balance and harmony to the body by applying essential oils to the spine, neck and feet.   Combined with the amazing powers of essential oils, mixed with a variety of massage techniques including back massage, vita flex massage and heat application, the technique is designed to bring the body back to structural and electrical alignment.
60 minutes of Raindrop Massage will be $100.00
Hot Rock Massage uses heated stones applied to the body as part of therapeutic massage therapy.  Smooth, round stones are heated, oiled and held in the palms of hands of the therapist and used to massage the body.  As the heat penetrates the body the client will experience deep relaxation and relief of muscular tension, stress and fatigue.
90 minutes of Hot Rock Massage will be $120.00
---
Eyelash Extension
Lash extensions are cometic that enhance length and thickness, curl, fullness. The extensions may be made of several materials including mink, silk, syntenic. How long do eyelash extension last? Up to 4-6 weeks depending on how you care for them.
Full Set takes 2 hours to apply $ 250.00
1 week refill $50.00
2 weeks refill $65.00
3 weeks $80.00
---
Waxing
Heavenly Faces Facial & Body Treatment Spa offers waxing and hair removal services including full body, bikini, Brazilian, eye brow and more.  Unlike shaving, waxing is a semi-permanent hair removal system which removes the hair from the root.  Unlike shaving, new hair will not grow back in the previously waxed area for four to six weeks, although some people will start to see new growth earlier due to some of their hair being in a different growth cycle.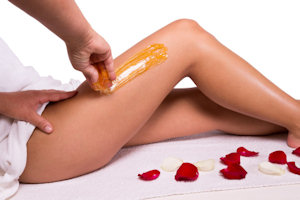 There are many benefits to waxing as it is very effective at removing large amounts of hair at once and when the hair does grow back it is softer and does not grow back as stubble.  Areas that are repeatedly waxed over long periods of time will experience regrowth that is softer, often lighter in color and can be sparser over time. 
The major down side is some quick, but not longlasting, pain but Veronica is not only a licensed esthetician but she is a trained educator in waxing and is engaged to travel all over the US, Central and Latin America to teach the best and least painful waxing techniques.
Heavenly Faces Facial and Body Treatment waxing takes place in a comfortable, relaxing and professional environment using only the best products to provide you with the quality and results that you would expect from an industry professional, using Professional Satin Smooth Waxes for superior results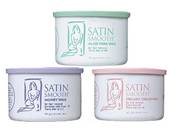 5 Full Face $140.00
Nose $35.00
Ears $35.00
Save on Both $55.00
Under Arms $35.00
Half Arms $45.00
Full Arms $60.00
Lower Legs $55.00
Full Legs $100.00
Bikini $55.00
Brazilian $75.00 and up

---
Cellulite Treatment
Troubled by Lumps and bumps?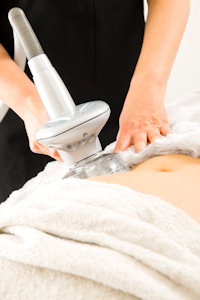 The main symptom of cellulite is the appearance of lumpy, dimpled flesh on the thighs, hips, buttocks and belly.  Weightloss and exercise can help improve the appearance of cellulite.  Other treatments are laser and radio frequency systems and Firming Lotions.  As one ages, especially from 20 on up, the appearance of cellulite worsens and many women choose to seek solutions.  But there is no easy solution to treat cellulite which plagues 85% of women over the age of 20.
Under the skin there is a network of connective tissue strands that hold subcutaneous fat in place.  But as we age the connective tissue weakens and the fat can bulge out between the strands creating ripples on the skin surface. 
Heavenly Faces Facial & Body Treatment Spa offers 2 noninvasive procedures to help lessen and control cellulite on the body as well as tighten and tone the skin of the face, neck and arms or wherever unsightly fat causes sagging skin and lack of tone.
SmoothSculpt® is a new noninvasive and innovative method designed to help smooth, contour and tighten skin by utilizing pressure pulsing and suction movements through a cupping wand.   SmoothSculpt® stimulates the skin for a smoother, more defined and tighter appearance, ridding the skin of toxins which will help firm and lift your skin. It is especially effective on the body for cellulite control and reduction.
35 mins $135.00
Radio Frequency Cavitation is one of the gold standards for cellulite control and reduction using massage and suction to stimulate collagen production and alter the strands so that they don't pull as hard on the skin thus causing less dimples.  Noninvasive radio frequency waves aid the fat removal process by helping to break down fat cells and tighten and contour the body,controlling and reducing the bumps and dimples caused by sagging skin. A series of 3-6 recommend and price drops when series is booked.
35 mins $135.00
---
Serving Both Female & Male Clientele in Lewisville and Flower Mound. Spa Packages & Gift Certificates are available.
We accept Personal Checks, Cash and Credit Cards



We Request the Courtesy of 24 hour notice in the event that a service appointment needs to be cancelled. 
A 100% no show fee will apply in the event that 24 hour notice is not given.  Thank you for your understanding.