---
Our Licensed Professionals begin with a complete skin analysis to recommend the best treatment(s) and products for your special needs.
Heavenly Faces offers customized facials catered to your skin needs.
Heavenly Spa Facial begins with a deep cleansing with a customized scrub, massage and seasonal mask (45 – 60 mins) $70.00
Heavenly Ultimate Facial customized for client skin type, begins with a deep cleansing enzyme peel, extractions if needed and mask (60 mins) $90.00
Heavenly Rejuvenating Facial encourages younger looking skin with a customized treatment that will help reduce the appearance of fine lines and wrinkles. (60 min) $135.00
Heavenly Gentleman's Facial is tailored for a man's unique skin care needs, includes deep cleansing, steaming hot towels, toning and pampering to neck and shoulders.(60min) $90.00. Add nose and ear wax for $40.00
Skin Spot Remover is where the esthetician removes skin growths such as skin tags, sebaceous hyperplasia, seborrheic keratoses and cherry angiomas. $30 and up
Specialty Peels are offered to further refine and improve the skin.

Herbal Peels with no harsh chemicals using all natural peel with algae.

Light Peel $100.00 or Deep Peel $200.00 (45 – 60 mins).

Aqua Peel Is a safe multi-faceted approach to skin revitalization , it is a great for all skin types. The aqua peel works in four different ways: cleanse- by using a gentle vacuum suction throughout the treatment, dead skin cells are removed and the skin is cleansed 60 min $135.00

Aqua Gold Fine Micro Needling is a micro needling treatment that uses tiny 24K gold needles to apply customize skin cocktail ingredients like hyaluronic acid and botox like just below the surface for long lasting results. 60 min $180.00
Heavenly Faces offers specialized treatments using the latest equipment to further refine your skin needs.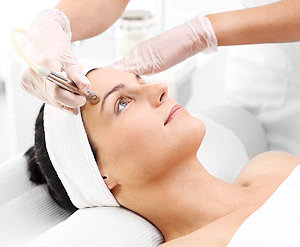 Smooth Sculpt Treatment using a firming, contouring and sculpting machine which is a cupping machine that massages and removes toxins.  Can be used on face and body (45 – 60 mins) $130.00
Derma Radiance with microdermabrasion using organic grains of Tea Tree, Rose or Lavender.  Diamond Tip is used to infuse oxygenating  serum into the skin (45 mins) $125.00
Dermaplaning – exfoliating treatment for the skin using a blade to remove dead skin cells and facial hair. (45 mins) $125.00
Derma Pen – treat help diminish scars, wrinkles, tighten pore and skin for a more even and youthful appearance. $165.00
IE- Light Therapy - Full Face treatment , fine lines, and wrinkles, age spots, brown spots, small blood vessels, smoother and soften skin. Using E-Light IPL with RF. 60 min $154.00
Procell micro-channeling Face - micro-channel device that rejuvenates and improves your skin's elasticity giving you a more youthful skin . Highly concentrated human growth-factor serums derived from bone marrow. Treats all skin types , wrinkles, acne scars, rosacea, stretch marks, loose skin, uneven skin tone, dull skin. 50 min $300.00

Procell Micro-Channeling Hair Restoration - Micro-channeling hair regrowth treatment on scalp using stem with cutting edge stem cell with over 350 growth factors for optimal results. For patients with thinning and balding hair. 50 min $300.00
Serving Both Female & Male Clientele in Lewisville and Flower Mound. Spa Packages & Gift Certificates are available.
We accept Personal Checks, Cash and Credit Cards



We Request the Courtesy of 24 hour notice in the event that a service appointment needs to be cancelled. 
A 100% no show fee will apply in the event that 24 hour notice is not given.  Thank you for your understanding.