About Heavenly Faces Facial & Body Treatment Spa
Whenever you see a woman with beautifully flawless skin you know that she consistently cares for her skin with professional facials beginning with deep cleansing, peels to remove dullness, extractions, collagen boosting serums and massages to firm and refine.  Discerning women will visit Heavenly Faces Facial Treatment and Body Spa where a team of beauty professionals including licensed estheticians, cosmetologists, body and massage therapists and manicure and pedicurists will cater to your every beauty need.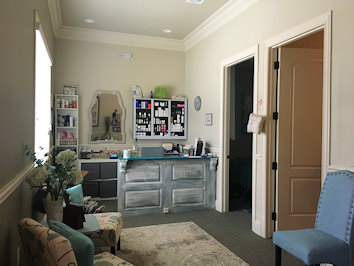 Your visit to Heavenly Faces will begin with a warm welcome by Veronica Lorello, a licensed Esthetician who opened Heavenly faces in 2008.  She will start with a complete skin and body analysis in the professional yet comfortable and relaxing, environment in order to recommend the best facials, face and body treatment(s) and products for you.
Outstanding customer service promoting health and relaxation focuses on results to enhance beauty, relax your body and rejuvenate your mind.  The Heavenly Faces Spa, located at 4961 Long Prairie Road, Flower Mound TX 75028 offers comfortable treatment and make-up rooms with an inviting and comfortable lobby designed to welcome and bring enjoyment to your experience.
In addition to the customized facials, Heavenly Faces menu of signature full service treatments includes waxing & hair removal, airbrush tanning for sun kissed glow with Cosmeceutical grade, Chemical Free Bronze Biologic which will last 7 days, Cellulite Therapy, chemical and herbal peels, Smooth Body Sculpt Treatment, Radio Frequency Treatment, Microdermabrasion, Dermaplaning , Derma pen and Lash Extensions and many more.
---

Veronica Lorello
Veronica has been an industry professional for over 10 years and opened her own business in 2008.  She is a Licensed Esthetician since 2005 and is also a Licensed Permanent Make-up Artist and Educator as well as a Trainer.  Veronica has represented Sally Beauty Company as a Professional Make-up Artist and other major international professional beauty brands as educator and trainer both in US and Internationally.

Jeanne Riley
Jeanne has been a Licensed Massage Therapist in the State of Texas for over 18 years. She offers a wide variety of massage types including Therapeutic, Swedish, Deep Tissue, Reflexology, Sports, Accupressure, Trigger Point, Hot Rock and Rain Drop Therapy. Recently Jeanne joined Heavenly Faces Facial and Body Treat Spa from Coldwater Creek Spa. Call 214-704-6321 for massage appointment.